Cruise to the Southern Caribbean Jan, 2008
Day 4 (01/07/2008)



Today we arrived in St. Kitts, which is a British Island. It was a bright sunny day, a contrast to the day before. We were docked next to the Queen Mary II, which is one of the largest cruise ships existing today. It was larger than our boat, but carries fewer passengers. Guess they get bigger rooms! :-)


| | |
| --- | --- |
| | |
| View from our balcony of the Queen Mary II ship | One of our ship's pools, St. Kitts in the background |

Mom stayed on board today, while I went out to check out the island. Numerous jewelry shops! Here is a group of natives doing some music and dance:

| | |
| --- | --- |
| | |
| The gateway. Lots of shops inside this building. | Natives doing some dance. |




There were tons of these little shops all side-by-side,
offering all sorts of clothing and trinkets.

Further down, there was this band of guys playing various
guitars, a banjo, and a home-made flute (PVC pipe!)





I stopped by this Internet Cafe, got 15 minutes of
internet for $1! The movie theatre you see was closed.

Later, I saw these two people scamming someone's
open wireless internet, hehe.





The policeman helped me cross a VERY busy road.
Notice his vehicle!

Saw this cute little monkey! They were charging $5 to
pose with him; I passed, but took a pic with my zoom!





Heading back, you can see the ship in the distance.

A more populated part of the island, as seen while
we were sailing away.


Mom took some nice shots of the interior of the ship. This is, once again, the middle area: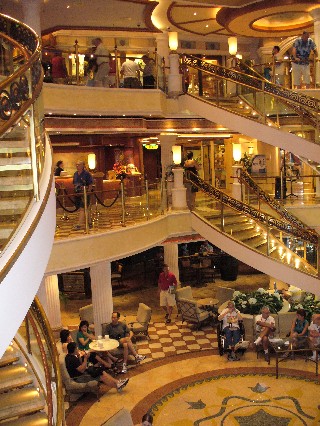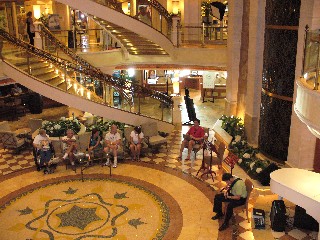 You will see a guy playing guitar in the right pic. Every day, during the day, there was some form of entertainment here. A juggler, pianist, guitarist, vocalists, etc...

Tonight was formal night, meaning that everyone dresses up for dinner. All the ladies looked so beautiful, including my mom! We celebrated her 77th birthday tonight!

| | |
| --- | --- |
| | |
| The little birthday cake they gave her! | Sarge, on stage with his comedy routine. |

After dinner, Mom went to see Heather Sullivan, and I went to the Ballroom dance class. This was actually the second of four classes they had, the first being last night. There was one "extra" girl who was my partner, but tonight for the Swing, I had no partner.. :-( They said it was unusual, usually there are more women than men at the classes! At least Bri, one of the cruise director staff who was co-leading the class, danced with me a few times.

Later, we saw Sarge in the Princess Theatre, doing his full comedy routine. All I can say is, this guy was pee-in-your-pants funny!! He did various impressions (he related that he used to open for Lionel Richie, and did impressions of him AMAZINGLY well!), as well as did a finale of putting together various song requests from the audience into one long song that he played on the piano. Magnificently talented!

By the way, note the background on Sarge. In at least three of the areas, they had curtains with fiber-optic strands in them that looked like stars. They were not all the same though, as they could make them twinkle! During one of the tours, they related that the curtains were $250K each!