Cruise to the Southern Caribbean Jan, 2008
Day 5 (01/08/2008)



This morning, we woke up to Grenada, one of the world's major producers of nutmeg and other spices. We were docked next to another cruise ship that appeared to have only a few people on it.

| | |
| --- | --- |
| | |
| Nice view of Grenada | The houses.. these go for close to $500,000! |

I went ashore, while mom basked in the sun. There were a number of people waiting for the victims, I mean travellers to take them around. I was on a mission to get some Aloe and spices for mom, so I ended up employing the services of one of the guys that took me around... which later cost me $25.


| | |
| --- | --- |
| | |
| My guide | The streets of Grenada |

One thing that I've seen common to all of these islands: they have paved roads, but it appears that there has been no work on the roads since they were first paved! Lots of potholes, bad road, etc. Back in 1983, the US came for a military intervention, which is probably when the roads were made!

Back to the tour. I told this guy (forgot his name) I needed Aloe Juice. He said he knew where it was, but went around asking people where he could find it, heh. He did strike out, but I did end up finding it in one of the shops right next to the port! Anyway, I did get a good tour through the place. We went through this tunnel, which was a one-way, single-lane street. This was a very dangerous endeavor, as you are literally only a few inches away from cars coming through! The terrain is very hilly, and roads can be steep.

| | |
| --- | --- |
| | |
| Yup, I went through here and lived to tell about it! | Lady along the way was selling various fruits |
| | |
| --- | --- |
| | |
| Check out how steep this road is! Look at the stairs! | The other side of the tunnel, one-way road with traffic! |




Heading back to the cruise ship...
Our ship is on the left!
There appeared to be some sort of small fire on land
just after we left.


Back on the ship, we had a late lunch, and checked out some stuff on the boat. We went into the highest floor's lounge, pictured above on the left as the circular set of windows, and took some pictures: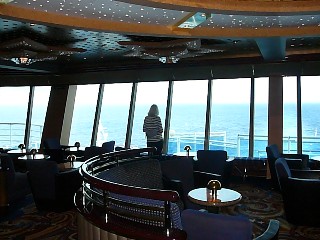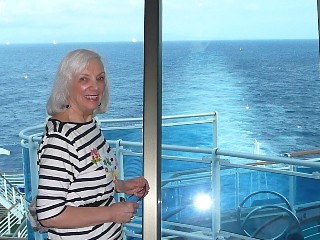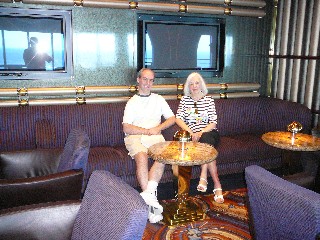 We then checked out their miniature golf course. It was a bit difficult because there were no "sides" or "borders" to each hole, like there are in traditional miniature golf courses. I beat mom, but then we played two holes at the end, and she beat me! It rained for a bit, and stopped just before we were ready to play. We saw a really big rainbow!

| | |
| --- | --- |
| | |
| Some of these shots were really hard! | Can you see the rainbow? |

That night we went to see musical comedy by Kimika - a husband and wife team from England.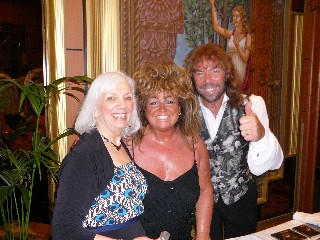 They were really funny, with the ending of the woman doing a Tina Turner entrance. Hilarious!

We went to the third Ballroom dance class, the Merengue. Mom ended up being my dance partner! We did pretty good.

I went to see a little of the Karaoke Power Hour, which was interesting.. One guy from Canada sang "New York, NY", which I thought was the best one!