Cruise to the Southern Caribbean Jan, 2008
Day 6 (01/09/2008)



We arrived this morning to the island of Bonaire, Netherland Antilles. This little island only has a population of 10,000, but there was much to see here. We went ashore, and found a good deal on a bus tour of the island - $20 per person. Bear in mind that the cruise ship has tours that you can sign up for, but they are generally at least $50 per person. We found we were just behind the open bus tour that the cruise ship does, so not only did we get a better deal, but we were in an air-conditioned van!

Bonaire is known for snorkeling, pink flamingos, and is a major producer of sea salt. It also is the home to one of the Radio Netherlands shortwave relay stations, as well as the home to Trans-World Radio. Interestingly, Bonaire is below the area where tropical storms and hurricanes usually travel, and it typically has a more dry climate. Some pics from our tour:


| | |
| --- | --- |
| | |
| Radio Netherlands shortwave "web" antenna | Interesting rock formation! |
| | |
| --- | --- |
| | |
| Our tour group, in front of a 100 year old house | Almost a postcard pic - look at the color of the water! |
| | |
| --- | --- |
| | |
| "1000 steps", it was a lot of steps cut in the rock. | Coconuts!!! |
| | |
| --- | --- |
| | |
| I got a kick out of this sign!!! | The governor's house. |
| | |
| --- | --- |
| | |
| Its cacti! I did test the prickers - they ARE sharp! | We saw lots of these "skinks" around - check the video out! |
| | |
| --- | --- |
| | |
| Maria, our tour guide showing us a fruit tree | We saw a few of these - fences, made out of cacti! Good deterrant! |
| | |
| --- | --- |
| | |
| They call this the Tourist Tree, because it is red (burned), and its skin flakes off! | The thriving metropolis... |



This is the Bonaire headquarters of Trans World Radio.
Our tour did not include this. After finishing the tour, I
realized I used to listen to this shortwave radio station
back in the late 70s, early 80s. I recall them saying they
were in Bonaire, Netherland Antilles... and then it clicked -
I was THERE! I was able to secure a ride to the station
by a nice tour information guide. There was only one car
here, but thankfully a man answered the door, and showed
me through! They used to produce all their shows here,

Always wanted to take a pic in an european payphone cage!

but now it is all done in other places, and sent here via the internet.

| | |
| --- | --- |
| | |
| They had pictures of the way it used to be back in the 50s and 60s. | This fine man, who moved here from the US in the 60s showed me through. |




The local tour information guide was kind enough to
take me himself to the Trans World Radio building.

In the evening, we heard this chanting, "Move that boat!"
Turned out to be this boat next to us! heh. Here's a little clip.


That night we went to see a comedian at the Princess theatre, followed by "The Internation Crew Show". That was really neat - they had various of the crew staff that were not performers do a little act. They ended with a routine, "If I were not upon the sea", which was a hilarious look at what jobs they might have, if they were employed elsewhere.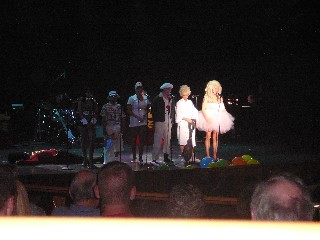 I went to the Country Hoe Down, which was a mix of country line dancing and games. One of the games was an elimination type, fake shoot-em-up. I made it to the last 4 people!