Cruise to the Southern Caribbean Jan, 2008
Day 8 (01/11/2008)



This was our "Day at Sea", because the journey from Aruba back to Puerto Rico is a long one. It was a bit windy this morning, as we ate our pre-breakfast food on our outside deck. We ordered a few things for breakfast each morning from Room Service - hey, its free! Its funny, juice from Room Service was free, but juice in the other places was pay.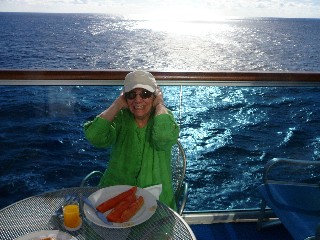 After Breakfast, I went to go take the Princess Theatre Backstage Tour. This was neat, got to see lots of interesting things!

| | |
| --- | --- |
| | |
| The Dance Captain (girl in black) directed the tour. | Dressing room for actors in Princess Theatre |

The above picture shows all the costumes. This is actually a massive aparatus like you would see at a dry-cleaners that is motorized. I say massive, because it goes three stories high!

| | | |
| --- | --- | --- |
| | This is Stage Left, showing the curtains with the fiber-optics), the stairway entrance to the set for the band, and above the big King of Spades (another prop), the "lookout" guy who controls the moving platforms. There are two separate parts of the stage that can decend beneath the floor. They made use of these! | |
| One of the "props" from the previous night's show | | The lighting board, at the back. |
| | | |
| --- | --- | --- |
| | | |
| 16tk digital mixer for the band at L; 40ch FOH at R | Audio playback media and processing | CobraNet system running the audio. |

That evening, the dessert was Baked Alaska, although it wasn't served flaming like the last cruise I was on.


These are the two guys that were our dining room staff.
They were great!





One last good-bye to Heather, the Piano girl!


We stopped by to say fairwell to Heather Sullivan, then went back to our cabin. Our girl Rosemary was the one who kept our cabin neat and clean. She did an excellent job! Ever night, we would have a little chocolate on our beds. Mom asked her that day if she could have a couple, and here is what we saw when we came in:

| | |
| --- | --- |
| | |
| Our wonderful girl Rosemary! | 8 neatly-arranged cholocate candies! |